I want this...

Corset Tshirt
I've always thought corsets and bustiers were very sexy, in a dominatrix kind of way. They make me think of whips and chains and thigh high patent leather stilettos. Being kinky and letting go of all inhibitions.....
Okay, okay I'm getting a little warm in here.
(I never knew a little corset tshirt would excite me so much)
Out of all my years, I've never worn one; a corset that is. I do own one though, I've just never worn it. I purchased it from TJ Maxx last season so I can't wait to style it. Since there is still a little chill in the air I decided to first try a corset inspired Tshirt just to see how I would like the effect.
I paired it with my all time favorite red cardigan from Old Navy (it's at least 5 years old and it still hasn't lost it's flava) , some thrifted wide legs, and my bronze Steve Madden kitten heels. I actually went to have dinner with my BF's family in this 'fit and his fam totally loved it. I was worried though that the 'corset like' design would be too much but it worked.
My pants are not high waisted, but oh well, right!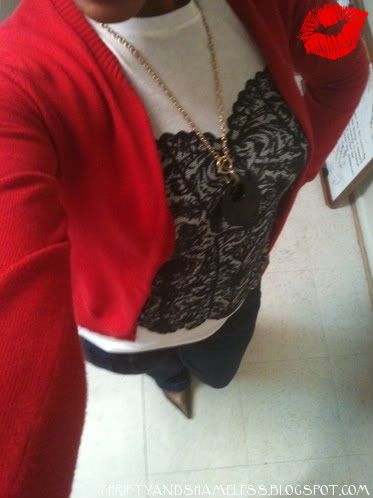 Corset Tshirt-Miley to the MAXX via Walmart $3

How do you rock your high waisted/wide leg pants?
You can visit
TwoBirds
to see how everyone else interpreted this week's inspiration.
In other 'Word on the Street' news, the BF and I rented
Stone
starring Robert DeNiro, Edward Norton, and Mila Jovovich.
In Stone, a convicted arsonist looks to manipulate a parole officer into a plan to secure his parole by placing his beautiful wife in the lawman's path. Again, another film dealing with law and the justice system. I would have loved a little more action (and maybe even some type of twist) but if you're in the house with nothing to do on a rainy day then maybe you can go and pick it up. I wasn't too thrilled by it though.
What's your 'Word on the Street' this week?
(fashion trends, new bloggers, books, movies, events, etc)
SIDENOTE: Don't forget to enter my'Spring Break Beauty' Giveaway. It contains lots of goodies. For details on how to enter click
here
.