WHITE....
It's such a gorgeous, classy, chic looking color.
Yet, many have a hard time wearing it.
I myself am a
complete
klutz so I always fear that I will trip over my own feet and land in a pile of dog pooh while wearing white. Or spill some of my Diet Coke on my white blazer. I tried wearing white
here
and I was totally embarrassed at how it turned out. So today, I try yet again to rock the infamous hue. This time I'm doing so with a different purpose in mind. I'm joining Kristina from
PrettyShinySparkly
as she brings some of the hottest, sexiest, most fashionable bloggers together to participate in Assignment #2 of her
Bloggers Do It Better Challenge-White Out
.
Here are a few of my favorite 'how to wear white' tips:
1.
SUIT UP
-Mix and match separates with other items in your wardrobe. For a not so formal look, pair a suit jacket or blazer with some tattered white denim.
Blazer..Belt..Wedges-Thrifted/Denim..Pattern Shirt-NY & Co
2.
LAYER TEXTURES and TONES
-This helps to add dimension to an otherwise boring look. Here I paired an off white, almost cream polyester blended blazer with white cotton bottoms.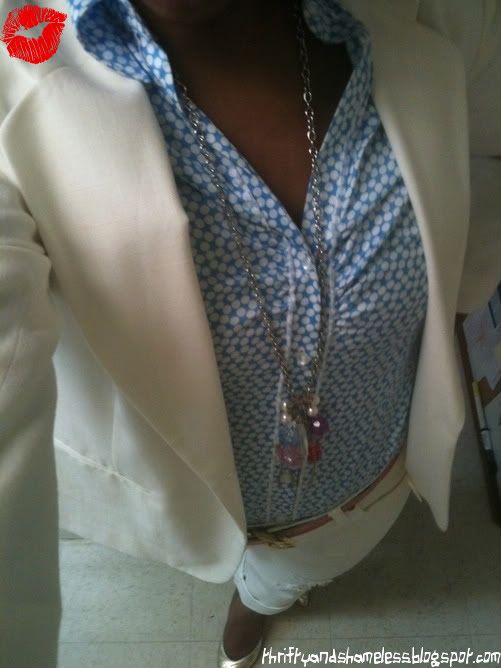 I took a vintage thrifted blazer and paired it with some modern NY & Co denim that I found on a $9.99 clearance.
3.
ACCENTUATE WITH COLOR
-You can add any color you want when working with a white outfit. Color adds flair and chic! I chose to go with a fuchsia belt and silver and gold wedges. (Which by the way are the
Shoe Of The Week
-go over to
AHeartAndSoulStory
to check out her challenge)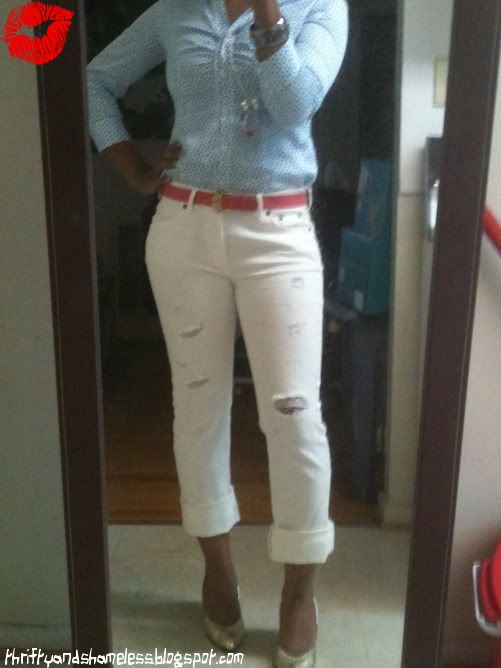 I added a pop of color with a patterned shirt, thrifted belt, and topped it off with my staple piece-the vintage wedges.
Vintage Wedges
Love these shoes
I thrifted these suckers for 99 cents. I can't wait to style them with some of my other pieces. This fit along with these rules make me a little more comfortable with wearing white during the 'off season'.
What about when old fashioned parents or grandparents for that matter say that 'you're not supposed to wear white before Memorial Day nor after Labor Day'? I say that myth is played out and white is the new black. Go to
PrettyShinySparkly
to see how my other blogger diva's are rocking their WHITE OUT!
How do you feel about the old adage of only wearing white during 'certain' seasons?