Today marks a new installment of
Everybody Everywear
! For those of you who are unsure of what
that
is, it's a clothing collective where each month the curators,
Liz
and
Linda
, pick a classic piece of clothing for the participants to style. I love to see everyone's different styles and takes on such ordinary pieces.
This month we are rocking FLORALS. If you read my post
here
then you know how much I'm in
looovvve
with beautiful flowered fabrics. And with so many to choose from in my closet, it was kinda hard for me to decide which one to rock.
I ultimately went with this look:
(Psssstttt....this is also my
Color Brigade
look for the week. Click
here
to see what other colors the lovely ladies are rocking and don't forget to congratulate Kileen on her recent nuptuials).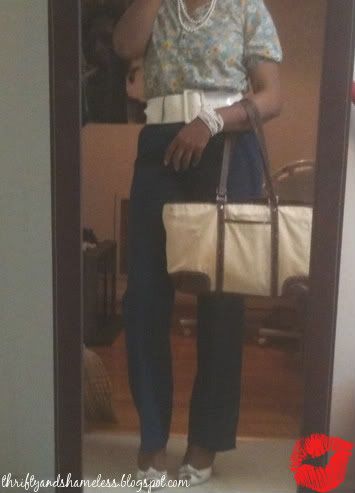 SlacksShirtPeepToesBag-Thrifted/Belt-XXI
I added some pearls and a wide belt to add a classy edge to my cotton floral. I threw on my peep toe sandals and felt like a million bucks. I feel like I'm going to be rocking this same 'fit again in the near future!!
These great navy blue polyester pants were found in the men's section while out thrifting. I have mastered the art of predicting what will fit me just by looking at an item because I haaaatttteee going into the fitting room. However, since these pants were in the men's section and didn't have a size on the tag I broke down and went to the fitting room. They were a perfect fit. Price tag-99 cents!!!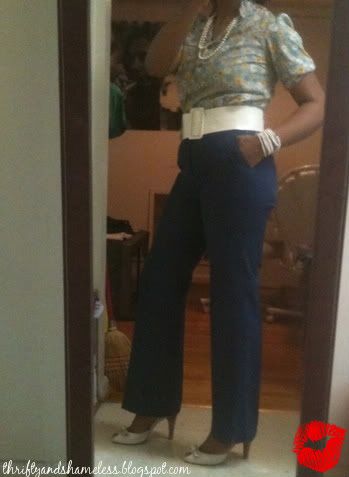 This lovely cotton floral is a Mossimo branded thrift item as well...Price tag-99 cents!!! I love how I can dress it up or even pair it with some jeans and it still keeps it's sophisticated flair!
Ahhhh....now my
favorite
part!
The shoes
. In
last Friday's post
, I talked about shoes and how I'm in love with the Nine West brand because of their comfortability and style. Here's one of my latest additions:
An awesome cream colored peep toe heel with studded bows. Yet
another
thrift find. I watched the ladies seethe with anger as I quickly snatched these up and put them in my basket. Finders, keepers ladies.
Price tag-$2.98
I spent well under $30 on this 'fit but I feel like a MILLION BUCKS!!!
I can't wait to see what 'everybody, everywear' else is wearing. You can click
here
to see for yourself.
How do you rock your florals?