I want this...
I've always had a dangerous love affair with prints, so when I saw that tons of the ladies on Katy's
'Spring Trend'
post for Friend Friday. I knew that florals would be my new obsession for this season.
Since today is 'BLUE' day in the
Color Rotation
, I decided to rock this lovely floral: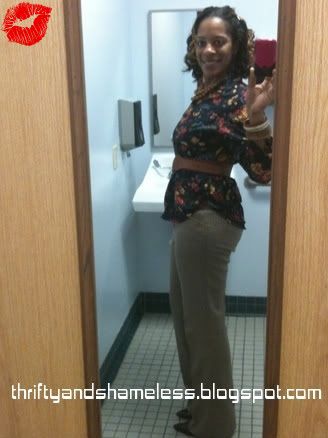 Floral..Slacks-Thrifted/Pumps-Payless
I scored this for 99 cent on one of my thrifty escapades! And it's Liz Claiborne. Now back in my hey day, I wouldn't have looked twice at a Liz piece but now that I know the true value of fashion, I wouldn't pass up on a piece like this-and the floral print makes it all the more breathtaking! I loved how the golden flowers contrasted so perfectly with the dark hues. I added a cognac belt and mustard beads to spruce it up a bit and bring out the colors even more.

My slacks have a slight burgundy pinstripe in them that matches perfectly with the burgundy flowers in my shirt.
See:
How do you rock your florals?
And after you've shared with me how you like to rock your florals, go and grab
The Social Network
because it's going to be a rainy night (well in Virginia it is). I know, I know this is an old movie but since I only share movies with you once a week, my list is hella backed up!! Anywho, the BF and I were on the fence about this one because we thought, 'well who the hell wants to watch a movie about Facebook'? We were very pleasantly surprised and we had our eyes glued to the screen the entire time.
MY RATING 9.3/10
If you're not into movies, go grab yourself a good book. This week I'm reading book #7 of 52-
Love Thy Sister, Watch Thy Back
by Denise Campbell. Sooooo riveting. If you like drama filled novels, this is definitely for you.


Four women who had been friends for as long as they could remember learn that time can heal all wounds or make them fester and bleed. Journey with Sasha, Sandra, Kayla and Charmaine as they discover the power of true friendship while fighting to survive black mail, jealousy, the welfare system, social injustices and bias of one's sexual orientation.
What's your 'Word on the Street'?
I would love to know about your favorite fashions, movies, books, or events of the week!