Good Monday my friends....I hope you all had a great and fantabulous Mother's Day weekend. You can read
my post from yesterday
to see how mine went.
Today is
Mailbox Monday
. I am sooo excited about it because I got
ALL
of this in the mail this past week: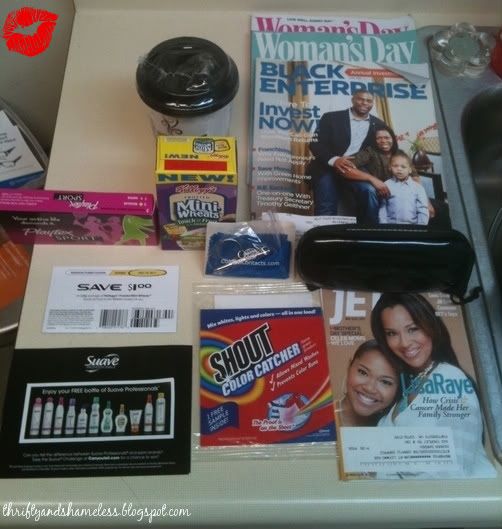 Mailbox Monday
4 Magazines (2 Woman's Day, Black Enterprise, Jet) and some random product samples and coupons. I will be linking up with
AFrugalFriend
to share my mailbox goodies so go on over to see what everyone else got in their box. I also
finally
received the glasses that I ordered from
CoastalContacts
when they were doing their
FREE
giveaway. YAY!!! This was
amazing
for any of you all that got a chance to take advantage of it. Usually when websites do giveaways they offer to give you the
least
expensive item that they have available so as to not lose out on a bunch of money.
Buuuttttt
, CostalContacts was offering
name brand
glasses-
FOR FREE
. All you had to pay was shipping and a service fee which came out to $18.85-still not bad considering I got all of this:
$18.85 for a pair of BeBe glasses that were originally $128.
That's an 85% savings and one helluva deal
. They even came with a cool carrying case. Kudos to
CoastalContacts
.

FREE BeBe's from Coastal Contacts
They've done several of these giveaways within the past couple of months but I was only able to cash in on this one. Stay on the lookout for more of them (giveaways, that is).
Next on my agenda is
Savin' Maven Monday
. I don't feel as though I did much shopping this past week just because there weren't really any great deals out there. Here's my roundup...
My first stop was at Rite Aid. I spent
$5.71
there and got this:
Savin' Maven Monday (Rite Aid)

The Revlon and Covergirl Cosmetics were 40% off and I used a ($2.50 off 2) and coupon. The nail polishes were B1G1 50% off but I didn't have coupons for any of them. All of the candy was on a special 'after Easter' clearance so they were around $.25 each after the store coupons that I used. By making this purchase, I received $9 in Register Rewards to use toward my next purchase, a ($3 off $15 purchase) coupon, annnddd a coupon for 10% off. This trip actually made me alot of money that I can use next towards my next trip. Rite Aid is easily becoming one of my favorite places to shop. Sure some of their prices may be a little on the expensive side, but once you use your coupons and take advantage of their Register Rewards, you really don't end up spending much money at all. You can register for your own rewards card by clicking
here
.
My next stop was Farm Fresh. They double coupons up to $1 on Wednesdays so I always wait until then to visit. I spent
$8.65
there and here's what I got:
Savin' Maven Monday (Farm Fresh)
The Dawn dish detergent is actually from CVS and I only spent $.10 for all 4 of them but that was the only trip I made there so I just tagged it on to my Farm Fresh trip. Nothing else too special about this trip other than the fact that the M&M's were FREE with the purchase of the Rice Krispies (I got the coupon from a peelies that was on the cereal box). I can't wait to make yummy Crab Salad with the Crab Classic that's pictured.
My next trip was to Wal-Mart. They rarely ever run specials so I just go in there in order to rid myself of some of the coupons that I have piling up. I spent
$8.06
here and got the following:
Savin' Maven Monday (Wal-Mart)
This picture does not include the Miley Cyrus camo skinnies that I purchased for $3 but they are included in my total. The Ivory soaps were $.97 and I used 2 ($1 off 1) coupons so they ended up being FREE. Everything else was under $1.60.
There you have it-my weekly roundup of goodies.
This week my total came to $84.40
My total out of pocket was $22.41
For a total savings of $61.99 (73% savings)
What do you think?
Did you find any good deals this past week?