I hope all of you had a terrific and productive weekend! I must say that mine was well rested and I'm soooo stoked about it because I needed SLEEEEP!!!
Being that it's Monday, I usually get straight into my 'Savin' Maven Monday' spiel (don't worry, it's coming) but today my first matter of BI is to thank all of you soooo much for commenting with your encouraging words in my time of need.

You don't know how much you all made my day. With that being said, I think I have just come up with a new segment for my blog. Stay tuned for more info.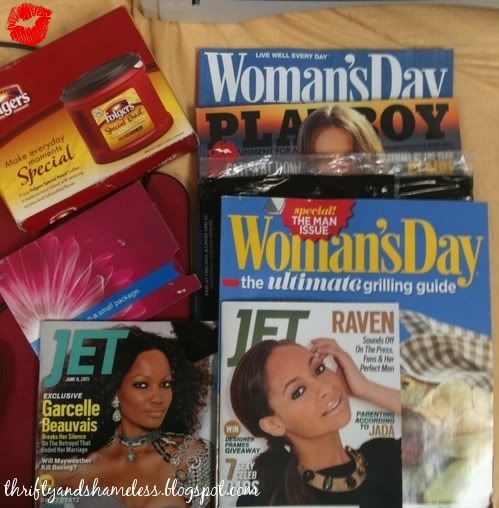 Mailbox Monday
I'm particularly excited today because I received my first issue of Playboy in the mail this week. Yes, I said Playboy. My BF (boo love, boyfriend, lover--I have to do this because someone thought that I was talking about my best friend) is soooo gonna love me for this subscription. And he will only get them after I read them!!! And it's not that I'm being nosey or trying to monitor what he reads either-I find women beautiful too and I like reading mags. Is that wrong?
In other news, the store and coupons deals weren't so great this week so this is all I got:
Savin' Maven (Rite Aid)
I only got these items because I had $10 in UP+ Rewards that I had to use before the expired on 6.5.11 so I am
not
too thrilled about this shopping trip.
I talked about UP Rewards in my last Savin' Maven post
. All of the travel size items were B1G1 50% off (so sad because generally coupons won't cover travel sized items). The HUGE bags of Twizzlers were B1G1 FREE and gasp....I've already gone through one whole bag of them. Twizzlers are my FAVE!!! The Club crackers were on special for $1.00 and I used them to eat with the yummy Crab salad that my Mom made for me. LOVES HER!!!
My total for this purchase was
$29.31
My total out of pocket was $2.87
For a total savings of
$26.44
(90% savings)
What kind of great deals did you find this past week?
Before you leave, here's
Couponing Tip #2
In other words, use your rewards like a revolving door. This will cut down on your out of pocket costs. You may use all of your rewards on a future purchase
OR
you may make several purchases/transactions in one day to receive the maximum amount of rewards. Lots of couponers like to use the 'several transaction' process but personally I think that's too time consuming and the people in line behind you begin to become irritated after about the 3rd transaction so I would suggest that you plan your trip in such a way that you can save the greatest amount of dollars while getting the greatest amount of rewards
ALL IN ONE TRIP
.
That's all for now. Thanks for reading!