Good Monday to all. I hope all of you enjoyed yet another great weekend. Mine was busy-full of work and packing, moving, and studying. However, with all that chaos being thrown in the mix, last week still proved to be an awesome couponing week for me.
For those of you who are new to visiting or following my blog, each Monday is
I'm still fairly new-I've been actively couponing now for about 2 months-and I thought it would be neat to share my weekly savings with you all. So on Monday, I round up all of my purchases from the previous week and give totals and share how I saved on the listed items.
Since alot of my readers have been asking me exactly how I do this, I will start listing a specific 'couponing' tip each week. I will admit that I am no expert at this (yet) but I have gotten a helluva lot better since beginning in March. Couponing can sometimes be tedious so you have to stay tuned so as not to miss anything.
This week I shopped at 4 stores:
Savin' Maven (Walgreens)
If you have been keeping up with me, you know that I despise Walgreens but there's something that just pulls me back each and every week. Their customer service sucks, the associates are rude, and they hardly ever have advertised items in stock. I lucked up on this trip though because I went in on a Sunday evening while no one was shopping. I spent a total of $12.90 here. The blood glucose monitor was the highest priced item but I received $10 worth of Register Rewards for purchasing it so split my transactions up and I used that $10 reward to purchase the remainder of the items pictured. The Old Spice body washes were B1G1 50% and the candies were B1G1 FREE-all of which I had coupons for. The Pepsi was FREE with the purchase of chips and salsa and the Dole fruit crisp was also FREE after I used my coupon.
Next...CVS
Savin' Maven (CVS)
I had $10 worth of Extra Care Bucks that I needed to use by 5/17 so the rainchecks came in handy for these items that were out of stock on the previous week. Combined with the coupons that I had and the already looowww prices of these in-ad items, I spent a total of $.52-ALL TAX- for the stuff pictured above. What a steal!!
On to...Rite Aid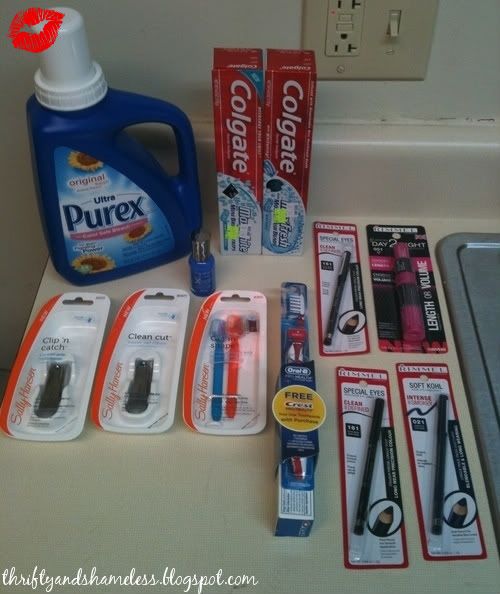 Savin' Maven (Rite Aid)
My next step was Rite Aid. I always have great shopping trips at the 'Aid'. Annnnddd they always have killer sales! This past week I went in with $10 UP+ Rewards that I had earned from a previous purchase and a shit ton of coupons. The Sally Hansen and Rimmel cosmetics items were all B1G1 50% off. The detergent was $1.97 and the toothpaste was marked down to $1.09 for which I had 2 ($1 off 1) coupons so that made the toothpaste a whopping $.09. After coupons and discounts, I spent $1.59 here-ALL TAX!!
Lastly...Harris Teeter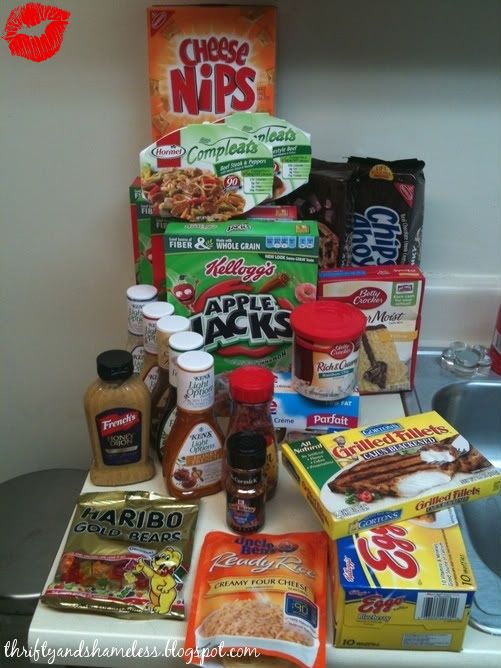 Savin' Maven (Harris Teeter-Triple Coupon Day)
I don't normally do HT because their prices are SKY HIGH! Even if I were wealthy, I wouldn't shop here because it's just ridiculous! (I swear the rich people seethe with anger when they see my frugalicious self walk in the door). The only time that I do shop HT is when they are doing a double, or in this case, a triple coupon event. Usually they do these types of events once a month and since I am a family of 1 (I do sometimes feed the BF though) I am usually able to stock up on groceries and make this one trip last until the next 'grocery run'. During this coupon event at HT, they tripled all coupons up to $.98. You can only use 20 coupons per shopping trip per eVIC card. I spent $33.17 on this trip-the 5 12packs of soda that I purchased are not pictured because I didn't feel like taking them out of the car and hauling them up stairs but they were on an awesome special-B2G3 FREE.
Overall this week, my totals were
$214.56
My total out of pocket was $48.18
For a total savings of
$166.38
(78% savings)
Did you find any great deals this past week?
Wait...wait...wait...before you leave, let me give you
Sign up for Company Reward or Loyalty Cards for each store that you frequent.
These cards are usually free and most times stores only offer sale prices to cardholders. You may sign up for these cards in store or on the specific company's website. Some of these cards work on the point system-for instance for every dollar you spend, you will earn a point-once you reach a certain number of points, they will send you a store coupon. Also, most of the loyalty cards (for pharmacy chains such as Rite Aid, Walgreens, and CVS) offer rewards that can be used just like money. All you have to do is purchase the advertised item and your receipt will print out with the stated reward amount that is good for you to use on your next purchase.
I know you're thinking damn it's already
alot
to tote around a bunch of coupons so where am I gonna put all of these loyalty cards. I assure you that they are easy to store-most of them can be attached to your key ring and along with advanced technology comes the
KeyRing
app where you can store all of your cards on your Smartphone for easy access.
Each Monday I will post a new tip. I will try to cover all that I can but please remember that I am no expert. If you have a specific question or topic that you want covered please leave it in the comments or shoot me a personal email. Thanks for reading!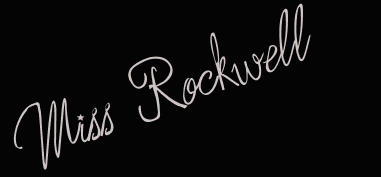 Post Title from How We Do by 50 Cent feat The Game