I want this...
No...I don't want the picture or any of the actual contents in the picture either.
I want to have my own little trunk sale!!!
When I go thrifting, I
always
find myself drifting towards the vintage section, remaining there for a very lengthy amount of time. When I'm not thrifting, I daydream about vintage pieces and how I can
incorporate them into my modern wardrobe
.
I'm becoming more obsessed with vintage by the day.
It's classic. Timeless. Beautiful. Delicate. And most times...it's worth a pretty penny!
This past weekend my Mother and I got up at the butt crack of dawn to go to a downtown 'garage sale' that she had mentioned to me a couple of weeks back. I was A-mazed when we arrived. There were vendors everywhere! The city had literally rented out the EN-TIRE bottom floor of a parking garage and allowed as many vendors as it could fit to sell their goods. They called it an 'Outdoor Flea Market'! LOL!!
People were selling some of everything....
From old antiques: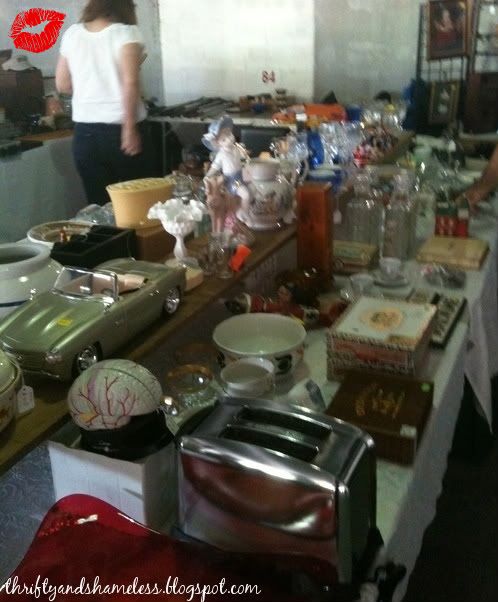 Trunk Sale
To jewelry...
Trunk Sale
People even had tubs full of lotions, body washes, and baby diapers
Trunk Sale
We (my Mom and I) plan to set up shop next month. They only hold these sales on the first Saturday of each month so this gives me plenty of time to sort through my massive pile of vintage finds. I'm sooooo glad that I finally have a spot where I can possibly sell some of my beauties.
What do you think of trunk sales?
Have you ever attended one?
Okay, so I'm going to forgo my movie review this week because after X number of weeks (it's alot of weeks) of doing this I've noticed that I haven't gotten any great feedback on it. So I will leave it up to tell me where I should go from here...
Do you enjoy the movie reviews each week?
(you don't have to leave a detailed response if you don't wanna)
Thanks for reading!