AWKWARD
-I got to the bottom of my Capt. Crunch ceral box today....so I added Apple Jacks to it to make a full bowl! YUMMM!!!
-
Why
is it that some of the more popular bloggers don't participate in community -blog- events and challenges (ie-
Bloggers Do It Better
,
Everybody Everywear
)? Do they think that they are better than us or do they just not have the time to devote to networking with other bloggers!? I mean I'm curious as hell. Maybe when I reach 'superblog' status, I will comprehend that one a little better.
-I wore black with brown today and, well....let's just say that I won't do it again. I hates it honey!
Have you ever rocked these two colors together? How did it turn out?
-I mentioned before how much I despise communal restrooms. But what I hate even more is the people who outright refuse to knock on the bathroom door before they pull on the door handle. Granted, I always lock the door behind me but just what if I forget one day....and then here comes one of those people who don't knock. I wonder if they will rethink their decision to knock after they walk in on someone mid-wipe!!
-If you're an avid Redboxer like me, they are offering some sweet deals for the next 7 days. Just text 'DEALS' to 727272. On Monday, they offered a FREE rental and Tuesday was half off . Today they are offering 50% off a one night rental. TEXT NOW!!
Redbox Deals
-If you're a follower, you know how much I
looooveee
thrifting. Weeellllll, I was featured on
ColorBlind
a couple of weeks ago as the
'Thrifters Anonymous Thrifter of the Week'
. Shana hosts this segment once a week for all of us thrifters to share our finds. She's also super fly and frugalicious and I'm hoping to feature her for an upcoming 'Word on the Street Wednesday' segment. You can read my feature and visit Shana
here
.
-Ok, so I am waaayyyyy late on this Savin' Maven Monday roundup ...sorry to those of you who look forward to seeing my deals each week. Here are the awesome deals that I found last week.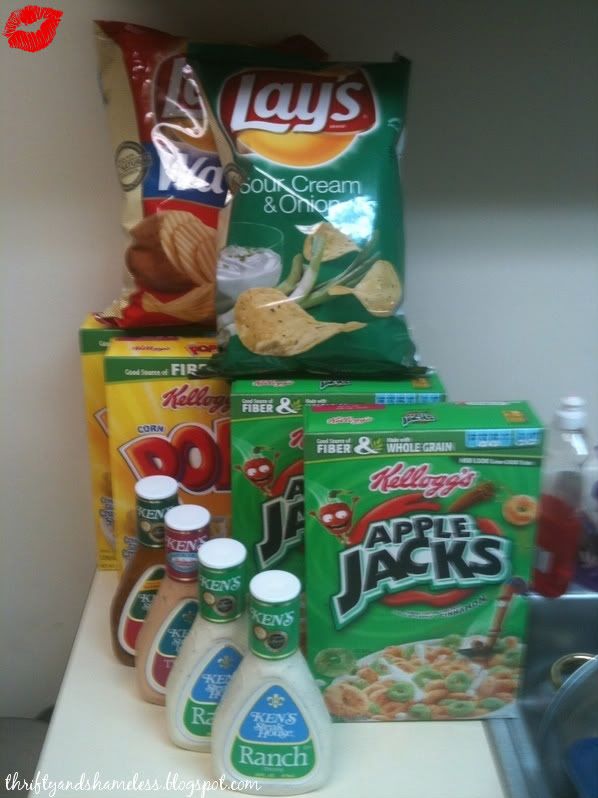 Savin' Maven (Food Lion)
Food Lion was offering those huge bottles of salad dressing for $.99 and the Kellogg's cereals and Lays chips were all B1G1 FREE! Theeennn, Food Lion was giving out $5 off $25 coupons so I spent
$7.59 here.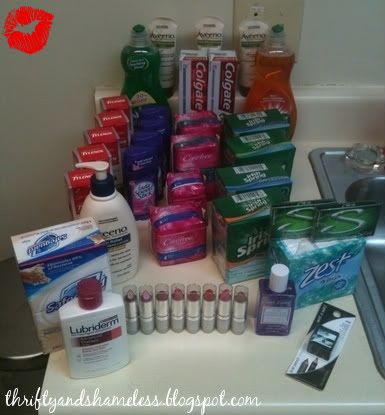 Savin' Maven (Rite Aid #1)
This was the GREATEST trip ever!!! Rite Aid had awesome deals last week. The lotions, soaps, and deodorants were all B1G1 50% off. The cosmetics were B1G1 FREE and the pads and Tylenol Precise cream were all FREE after I used my coupons. I spent a total of
$15.16
on the 40 items pictured. That's
an average of $.38/item.
Savin' Maven (Rite Aid #2)
Rite Aid sales were
so great
that I made a second trip. This time I spent
$4.96
(the 2 Reese cups are not pictured-I think I must've eaten them-ooops)! I also received $13 worth of Register Rewards to use towards my next Rite Aid trip. YAY!!
Savin' Maven (Target)
Target had lots of things on clearance last week-including some of their leftover spring gift bags and tissue papers. If you're lucky enough to have a decent Target in your area, you may be able to find some good markdowns. Here, I spent
$5.65
. Most of the items cost little or nothing after I used my coupons.
Savin' Maven (CVS)
My last stop was at CVS. I only stopped here because CoverGirl was offering a $3 extra care reward with the purchase of $10 worth of product. I spent
$3.35
here after coupons.
So altogether last week, my items totaled $229.26
I spent $36.71 out of pocket (after coupons, discounts, and sales)
For a total savings of
$192.55
(84% savings)

What can I say....shopping....(and couponing in particular) is addictive! I encourage you to try it!!!
What kind of awesome.....or awkward things did you experience this week?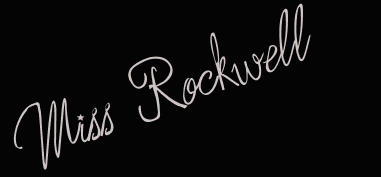 Post Title from Money to Blow by Drake