Hope everyone's had a Happy Monday. I know I'm getting to you a little late but I was out of town on a super mini vacation and was too much in a hurry to schedule my post.
I didn't have alot of mailbox freebies this past week but I did however, score some free goodies from Bath and Body Works. Bath and Body had sent out coupons for a free sample of their newest fragrance 'Into the Wild' so I printed 2 coupons and went to score these:

I had a previous coupon to buy one item and get a FREE travel sized item, so I scored an extra sample of the lotion (
will possibly be included in my Spring Break Beauty giveaway package
) and some zodiac inspired 'hanitizer'.

The other deals that I spotted this week were at CVS and Target. This was my very first time shopping at CVS since they just built a new one in my area and I must say that I was thoroughly impressed not only by their awesome deals but also with their very friendly customer service. On my first trip I scored these items: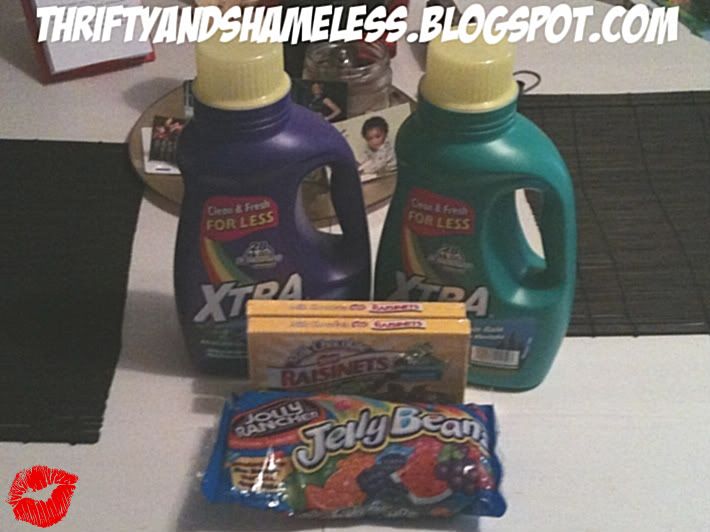 Savin' Maven Monday (CVS)
My
$3.54 CVS haul
was made possible with coupons for each of the items pictured. The laundry detergent was already on special for $1.49 and with my coupons they ended up being $.98 a piece. The jelly beans were
FREE
due to a coupon that CVS had emailed to their Extra Care Card holders. You may sign up
here
to receive your own CVS deals and discounts.
Savin' Maven Monday (CVS)
I spent
$14.11
on this trip to CVS and received $15 in ECB's to use on my next CVS purchase. (
I believe that the Lysol Neutra Air Sprays alone are originally $14.99
). So essentially everything that you see listed above was
FREE
because I earned money back. What a way to go, huh!?
My last trip to Target was the best one yet! This is what I came out with:
Savin' Maven Monday (Target)
All of this cost me
$.74
!!! I was sure that the cashier had rang something up incorrectly but when I factored in the coupons that I had, I figured that the total was about right. I'm sooo proud of myself for this one because I scored some pretty great items. The Zyrtec is one of my favorites in particular because my allergies have been getting the best of me this season. If you haven't looked yet, the Sunday paper inserts have $7.00 off coupons for Zyrtec that expire on 4.24.11 so snatch one up ASAP. Another of my favorites is the Sally Hansen Nail Effects Polish Strips. I've been waiting for the price to go down on them and Target has the lowest price yet at $8.50. I used a Target coupon stacked with a manufacturers coupon and got them for little or nothing. I can't wait to wear them!! Lastly, that green thing that all of my loot is sitting upon is definitely a wall mirror. It was on clearance for $3.48 and even though I have absolutely NO lime green decor in my home, I'm gonna make it work. Even if that means I have to remodel!!
So there you have it.
This week, my Savin' Maven Monday grand total was
$122.54
(this includes my Farm Fresh purchase I posted
here
)
My total out of pocket was $23.70
For a total savings of
$98.84
What do you think?
What kind of deals did you find this week?