Here's to Spring Break.
Monday marked the start of my 5 day Spring Break and I couldn't be happier. It's been such a loooonnnnggg year so this break couldn't have come at a better time. I decided to treat myself to a mini vacation and travel to New York. I've always been into live entertainment shows so I figured it would be fun to try and get tickets for the Wendy Williams show. Mind you I applied for the tickets back in February and up until a week before my spring break I still hadn't heard anything sooooo.....I applied again (even though the application clearly stated that you shouldn't apply more than once). I figured it was worth the try. Apparently it was because about 2 days later, I got an email saying that I needed to RSVP by a certain date and time or my tickets would be forfeited. One of my besties, who is originally from New York had the day off so she went along with me. This worked out perfectly because without her I would have been so lost in the 'big city'. Once we arrived, everything was smooth sailing. There were soooo many people though; people from as far as California traveling all the way to NY just to see Wendy. That must feel awesome. Anywho, here are a couple of pics from the trip: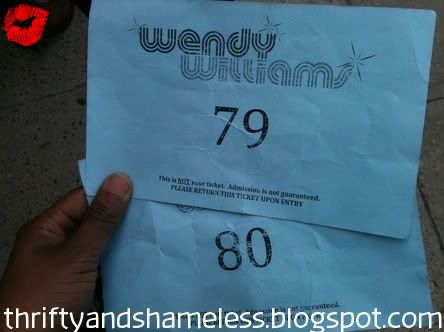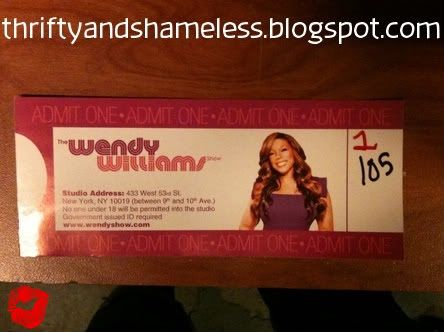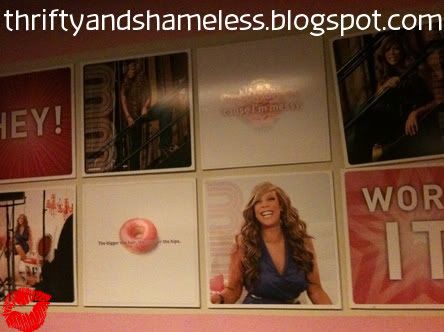 The ladies over at
TwoBirdsBoutique
have thought of the wonderful idea to host an
Inspiration Monday
segment in which they pick an awesome outfit and have everyone link up with how they styled their fit based on the picture for the day. I figured that my mini vacation was the perfect opportunity to for me to rock this (which also serves as my pattern segment of the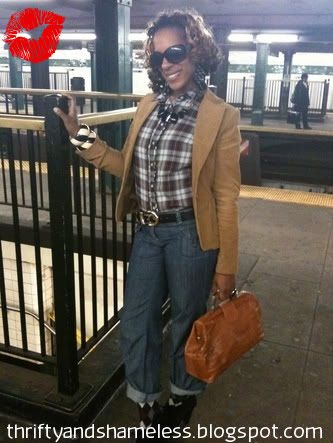 Blazer-Zara(Thrifted)/Shirt-TJ Maxx/Pants-NY & Co/Bag-Vintage/Shoes-Target(Thrifted)
The fit was actually inspired by this Gwen Stefani getup:
You can re-create this look for yourself and link up over
here
. Even though MeganBird disclosed that she hated styling this outfit, I on the other hand, absolutely loved it. It was right up my alley!! Right up my alley to sit in the audience at the Wendy Williams show and almost jump up out of my seat with excitement (
during the live taping
) when Wendy announced that everyone in the audience would receive a $50 Speigel gift card so that we could cop our very own accessories much like the one's she featured in her 'Spring Trend' segment of the show. Ahhhhhh, I could've screamed when she told us that. Meanwhile, my bestie was WEEEAAAAKKKK because
alllllll
I talked about on the ride to NY was the giveaway. What girl doesn't love free shopping money!? Needless to say that Speigel doesn't have a store in NY so I have to order something online and pay for shipping. *insert mean face*
Our next stop after the show was of course-the MAC store!! A friend of mine was training at their 'Pro Store' while we were in town so he invited us to come and take a look around. For those of you who don't know, the 'Pro Store' is where all of the MAC employees go to get their stock. They have all of the merchandise that you don't see in the 'regular' stores. Basically, it's a warehouse-a MAC warehouse!! How sick is that? When I entered, I instantly became oblivious to any and everything that was going on around me. Here's why: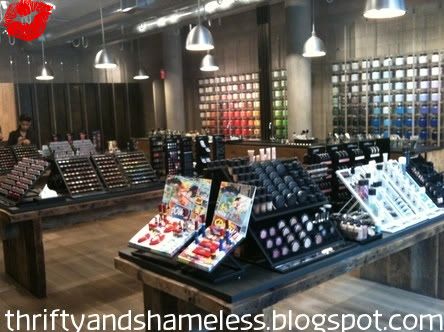 I was in Heaven!!!
IF you had the opportunity to visit this MAC store, what would you purchase?