AWKWARD
-Long toenails with sandals. Okay ladies, I know the weather is beginning to get nice but please, please, please get a pedicure. Even if it means that you have to get the pumice, nail file, and cuticle removers and go at it yourself, do what you gotta do, but DON'T come out with your toenails hanging over your shoes! It's disgusting and so tasteless!
-I saw my breath in the air this morning. Like really, I thought it was supposed to be spring!
-Fifth Graders!!!! With bigger butts than mine...and tits too!!! WTH...there's gotta be something in the chicken.
-Whoever made that 'no white before/after Easter/Labor Day' rule? They suck at life!!!
-It's almost Spring Break time!!!!!! One more day and then I have a whole week of freedom. Patiently awaiting my mini getaway to New York with one of my besties. More details to come next week! Yay!!
-Wearing white before Easter anyway, because I'm grown and I do what I want.
-Rocking purple for the
Color Rotation Challenge
. I'm almost done with my first round. I'm going to complete a total of two rounds with the colors that Colleen has selected so if you see me wearing the same hues next week you'll know why!!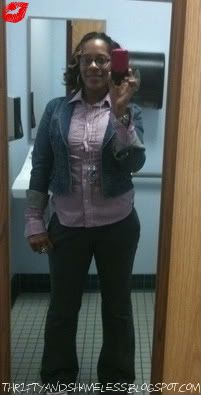 Pants..Jean Jacket-NY & Co./Button Up (Am. Eagle)-Thrifted/Shoes-Bakers

That's better!!
-Double Coupon Wednesday at Farm Fresh. Here's my purchase. I spent a whopping $5.35!!!
-Being spoiled by my BF. He bought a naked lady home for me the other night! He knows me so well...knows exactly what I like! She even smelt good too!
(
get your minds out of the gutter, I'm talking about perfume-Blue for Lady
)
And
going out for a dinner date. Not only is it important, but it is also awesome to continue to 'date' you significant other no matter how long you have been together. It keeps the flame burning! Also express your appreciation for whatever the gift may be-small or large. After I thanked the BF, he replies with a, "
not a problem babe, you're worth so much more than this
". #SWOONING AND BATTING MY EYELASHES
What are your date nights like with your boo?