This has not been the best week for me in terms of getting out of the house.
-I was late again today.
-This daylight savings time is really f-in with me...i just can't seem to pull myself from underneath the covers!!
-Me and camera's don't get along-hence the lack of outfits posts (and other pics). I have literally gone through not one but TWO cameras in the matter of 2 months. For some reason, each time I try to set up my automatic timer so that I can place it on a stable mantle, counter, or shelf, the camera purposefully jumps out of my hand and onto the concrete floor. So yeah, I'm pretty pissed about that!!!
-The awkward silence that persists when you pass someone (that you've previously spoken to) in an empty hallway. Do you smile, say hello again, look in the other direction, or bow your head and pretend that you're picking lint off of your shirt? I'm just saying...won't one greeting suffice for the remainder of the day!?
-

Hailey Reinhart

on American Idol last night!!! Please tell me you all saw her and all of her lipstick madness. It was all over her face after the performance! I mean literally! It was all on her teeth, all over her cheeks and chin, and probably in her hair too. She's such a cutie but so clueless!!
-It's

St. Patty's Day

. And I have on green! (does it still count if it's only a lil bit?)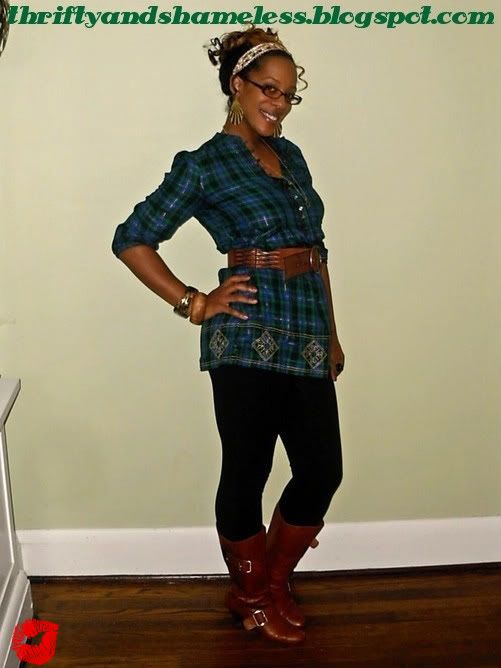 Plaid Tunic-NY & Co/Black Leggings-Miley to the MAXX/BCBG boots-c/o my auntie
-My totally inexpensive outfit: The

TUNIC

is from a $5.99 NY & Co. clearance sale.

BLACK

LEGGINGS

are definitely from Walmart and cost maybe $3.00-I love when the Miley Cyrus brand goes on clearance. And the

BCBG's

-ohhhhh how I love my BCBG's-they were a gift from my auntie! Isn't she nice!? The

ACCESSORIES

were gathered from random places-the earrings were on a 5 for $10 clearance and the headband was $2.99 from NY & Co. Frugalosity at it's best!
-

Hailey Reinhart

! I love her voice, it's so soulful. She has absolutely NO rhythm but the girl shol can sing a tune!!
-Excited to see what kind of savings my coupon clipping will merit me this week!
-Warm Honey Buns (and iced cold milk)
I can't wait to see how awesome and awkward everyone else's week has been. You can link up to the fun as well by visiting Syd over at the
Daybook
!