The Red Pump Project
raises awareness about the impact of HIV/AIDS on women and girls. Red Pump uses the red shoe as a symbol of empowerment to represent women affected with HIV/AIDS.
Every year, the United States recognizes March 10th as National Women and Girls HIV/AIDS Awareness Day (NWGHAAD). It's a nationwide initiative to raise awareness about the increasing impact of HIV/AIDS on women & girls and encourages ladies to take action. While progress has definitely been made in the areas of AIDS prevention and treatment, women still represent 27% of all new AIDS diagnoses, with African-American women accounting for 66% of that group. This year focuses on this statistic, "Every 35 minutes, a woman tests positive for HIV in the United States."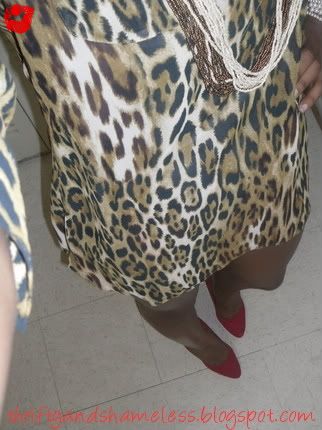 I'm 'ROCKING MY RED PUMPS'
Pumps-XXI/Everything else-NY & Co.
I hope you ladies are rocking your red as well! I think this cause is pretty much

AWESOME

and well it's

AWKWARD

if you're not participating!
well the

leopard 'thingy'

was a $7.99 steal from NY & Co's intimate apparel line. It's definitely supposed to be a nightgown but I broke the rules here.

Accessories

were a bargain also. The

pumps

are a XXI 'yellow tag' purchase. I believe I got them during their Christmas sale in '09. I regret now that I didn't get them in black too. Red is my absolute favorite color so today's post make so ecstatic-in a sentimental sort of way.
What's your favorite color and how do you like 'rocking it'?