Good Monday friends! I hope everyone has had a great weekend. Mine was a little trying but I will save that for another day, another post.
I did some minor shopping this past week so I won't waste any time sharing my goods. My first stop was at Farm Fresh. FF has now become my weekly couponing store because they double coupons up to $1.00 each Wednesday. A couple of weeks ago, they were doubling all $2 coupons but I missed out on that deal. I didn't need to stock up on much in the way of food, so I just purchased some inexpensive items using coupons that were soon to expire. Here's my haul:


Savin' Maven (Farm Fresh)
I spent $6.24 here. After using coupons, the Carefree liners were FREE as well as the Mueller's pasta. The Edward's single serve pies were $.50 each (they are de-lish), Tyson Anytizers were $.99, Texas Pete was $.70, Oral B Wisps were $.50 each, LA Looks Hair Gel was $.99, and the M&Ms were $.30 (prices after using coupons)-no tax added.
My next stop was Walgreens. If you've been following for a while then you are well aware of my continuous disgust with them. They never have any of their advertised items in stock by the time I visit on Wednesday's so then I end up having to get rainchecks, which most times are forgotten about by the time I leave out of the store.
Since I'm hosting a DIY Manicure party this Friday for FBFF
(initiated by
ModlyChic
), I decided to scope out their cosmetics section. Lo and behold they were running a
great
special on Revlon polishes. These polishes are regularly priced at about $6.49 a pop, but select colors were marked down to $3.99. The store was advertisitng a B1G1 50% off (Revlon Cosmetics) special
and
to top it off, I had store coupons for $2 off Revlon cosmetics. I believe they ended up being about $1 a piece. The lipliner pencils pictured were on clearance for $.25 so I got 2 of each color. I also purchased some mailing envelopes (not pictured) for $1.99. I spent
$8.84
here.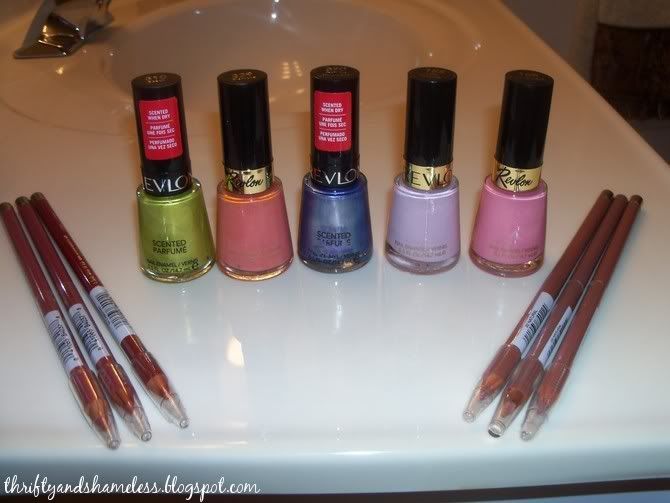 Savin' Maven (Walgreens)
Ladies, when shopping, make sure to pay close attention to your totals both while items are being scanned and while coupons are being taken off. Sometimes the register will ring items up for different amounts and/or fail to take coupons off (some coupons have to be taken off manually). This has happened to me on more than one instance and I have to end up going back into the store to get a price adjustment. That is soooo annoying!
Anyhow, my total this week was $60.24
My total out of pocket was $15.08
For a total savings of
$45.16
(75% savings)
Did you find any great deals this past week?
****Don't forget to get your pretty manicures ready! I'm hosting a DIY Manicure Party on August 12 for FBFF. I would love to see you link up!****
Post Title from My Goodies by Ciara