AWKWARD
-Sweltering heat. This summer is one of the hottest I've experienced. I don't even want to leave my house!
-Can't believe that's all the awkwards I have!
AWESOME
-Fixing my broken iPhone! I'm clumsy so I drop it ALL.THEE.TIME. Literally one week after I purchased it, I dropped it and the screen cracked. My company doesn't offer an insurance plan for the iPhone so I took my happy a$$ to
Craigslist
and searched
'fix broken iPhone screen'
. Surprisingly, there were a couple of locations that popped up in my area. One of the locations happened to be at a cell phone kiosk in the middle of the local mall. They took my phone without a problem, told me to come back in an hour and for 50 bucks I would be all set. OMGeezers! That's awesome. Sure as hell beats paying upward of $400 for a totally new phone. I was all smiles. That is.....until I dropped the dang phone AGAIN, 4 months later. Here's what it looked like.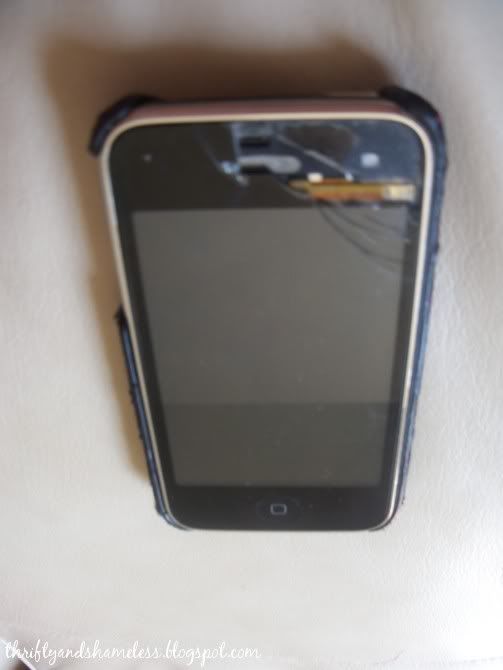 Broken iPhone Screen
Being the super frugal diva that I am, I was DE-termined not to pay $50 again so I walked around with my phone looking like this for about a good month. Trust the looks that I got were bad and the jokes were even worse. Finally, my coworker suggested that I search on eBay. She said that they sell the same tool kits that the repair guy used....Get this-the kit sells on
eBay
for roughly $8.....and they charged me $50-they're making a helluva profit! So I searched 'iPhone (insert your model here...ie-3G,3Gs,4G) replacement screen' on eBay and found the kit for exactly $7.53 with FREE shipping.
The kit contains 9 pieces:
iPhone Repair Kit
I found a repair tutorial on
YouTube
and did it myself. Looks just like new!
iPhone AFTER repair (oops, I missed a call)
I'm sure I'm not the only one who has this problem. Hopefully this will be helpful to some, if not all of you. I'm all about saving a dollar!
****Don't forget to get your pretty manicures ready! I'm hosting a DIY Manicure Party on August 12 for FBFF. I would love to see you link up!*****
Post Title From: Put It In A Love Song by Alicia Keys