Colors make me happy. They make me smile. If I could wear every color in the rainbow on any given day....I would. Instead, I always find myself picking out the same color. Does anyone else do that? I mean, seriously, my freaking closet is color coded and all I can come up with is green.
Green vest,
green tanks,
green shorts.
Last week it was red.
The week before that, orange.
What the hell is going on? Why can't I seem to get out of this color rut?
Evidently, certain shades exhibit different therapeutic sensors and ultimately have the ability to influence not only how we feel but also how others perceive us when wearing specific colors.
According to
Phylameana lila Desy
, green is considered to be the most healing among all the colors. It is a wonderful color choice to wear anytime you are wanting to feel more in-tune with nature and should be worn anytime you are trying to 'turn a new leaf'. Wear green when you want to see things from a different perspective.
Polo-Aeropostale/Wedges-Target
Wearing blue helps create a place of calm and serenity. Wear blue when you want to exude an air of authority.
While wearing gray and black can be depressive, wearing orange is a fairly high energy color. It emits sexual energy and has the tendency to make you feel quite playful. It is a highly intense color that not many can get away with rocking successfully.
Pink is very feminine and passionate and whether worn by male or female it can signal that you're not only approachable but also fun loving. Wear pink when you want others to instantly become attracted to you.
The color purple is said to be a 'statement color'. It states that you are unique, special, and not afraid to stand out.
Red, my favorite, is fierce, powerful, and confident. Wearing too much, however, will tend to intimidate people. Wear red when you want your sexuality to exude from your being.
Yellow is warm and light. It's an affirmative color and gives off a feeling of perkiness. Wear yellow when you want to infuse some joy into your life.
Orange is associated with vibrant health. Wear orange when you want to have fun and be creative.
The color white represents cleansing, new beginnings, and purity.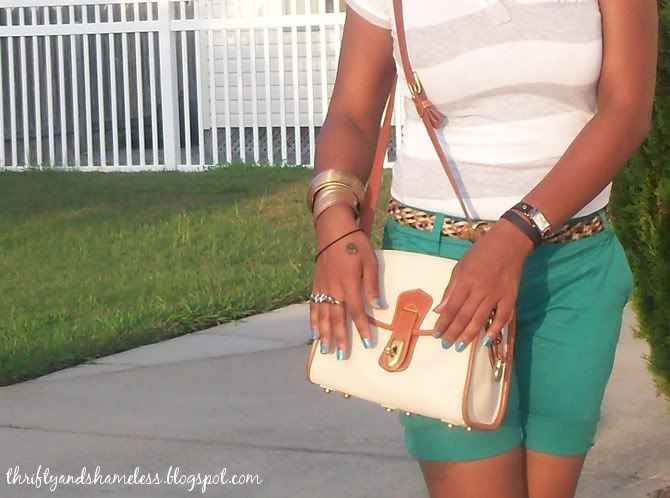 DooneyandBourke-Vintage thrifted/Belt-thrifted/Bermudas-NY&Co
What is your favorite color to wear?
On a lighter note, today is Day 2 of the 21 Day Challenge hosted by Kayla over at
FrecklesInApril
. She's asking us to
'

Tuck it'
however we want. It can be a shirt tucked into pants, pants tucked into boots, or even a scarf tucked under a belt. I went with the simple yet obvious shirt tuck. Find out more about the challenge
here
.


Sometimes I like to tuck my shirt into my pants...
What's your favorite way to 'tuck it'?
Post Title from: Rainbow Colors by Lil Wayne
Linked up to:
21 Day Challenge-Day 2
Thrifters Anonymous
Color Brigade
Thriftaholics Weekly