Howdy and Happy Tuesday!!!
As you all should know by now, I loooovvvveee, love, love being super frugal and thrifty.
It's a way of life for me.
So I'm especially excited today because my frugalisciousness has landed me a feature on
This blog, hosted by the lovely Miss Jessica (XOXO), is all about remaining fashionable while being super thrifty. She showcases some fabolous style while highlighting all of her thrifty finds with 'wrinkled dollars' that I'm sure all of us have laying around somewhere. She's
super
cute too and I'm always amazed by the things that she finds while out thrifting.
(and maybe you'll be the next lady she spotlights)


And by the way, you can view my feature by clicking
here
. Stay tuned because I'm going to be spotlighting her soon as well.
See:
Tan Blazer-NY & Co/Sweater-GAP/Jetpants..Shoes-Thrifted/Bangles-gifted from Auntie
These pants were picked up on one of my very first thrifty escapades a number of months ago. Upon first glance, I thought to myself that I
had
to have them because of the gorgeous color....
regardless
of how they fit. I was on the fence about how I was going to style them because really
,
who
owns green jegging/sweatpant' thingies-let's call them
JETPANTS
! So I drove home frantically with beads of sweat forming on my upper lip-and BAAAMMM-they fit like a glove! This one thrifty tip turned into a not so expensive obsession and a time consuming, yet very pleasurable online journal which I like to call my blog!! And I can live with that...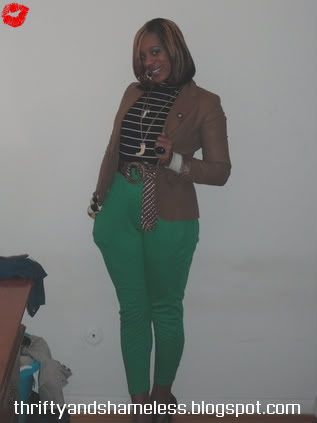 I soooo apologize about the horrible lighting and the basket of clothing peeking in on the side!!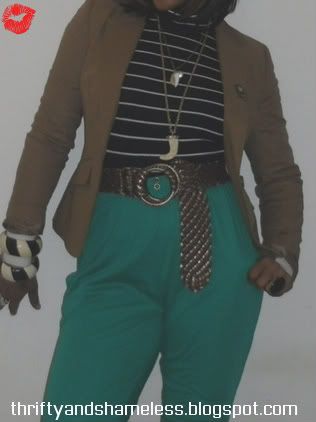 How do you rock your GREEN?