I'm so excited about the goodies I found in my mailbox this past week. I'm linking up with
A Frugal Friend
to share my goods. I'm especially excited that I finally recieved my 150 4x6 color prints from Snapfish (
just in time to create some cutesy Easter gifts
) and my Beauty Bag from Target which includes over $25 worth of store coupons (
btw, they can be combined with manufacturer's coupons to get some good deals
). And all of these new magazine subscriptions are gonna keep me occupied for a while!!
What did you get in your mailbox?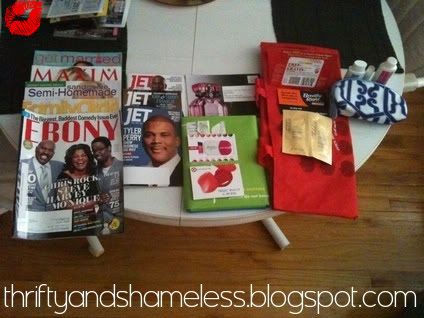 This week I did my shopping at Rite Aid and Target. I feel like I spent a ton, when compared to the amounts that I see other couponers spending. Nevertheless, I did score on some pretty high value items. Here are my hauls:

Savin' Maven Monday (Rite Aid)
I had the woooorrrrssssttt experience at Rite Aid. First off they were advertising a special wherein you would get $10 in Register Rewards if you purchased $20 worth of Biore and Ban products (
other brands were included but these are the only brands I purchased
). I mean the signage was clearly right there next to the listed products. So I go to the register and paid for my first purchase (
I used some RR from a previous purchase plus a B1G1 Biore coupon and a coupons for my Ban deoderant
) which came up to $9 and change. The problem began when the cashier couldn't use one of my printed coupons because a smidgen of the barcode was cut off (
as if the cashier couldn't just manually enter it-SMDH
). After the transaction was finalized, I patiently waited for my RR to print out annnddd....it never did. The cashier claimed that this happens occasionally and directed me to call the customer service number. After sitting on the phone with the CS rep for 15 minutes and holding the line up, she told me that there was nothing that she could do because apparently Rite Aid had advertised the wrong products.
WTH
...um excuse me! What do you mean there's
nothing
you can do.
At this point, I was irrate, livid, boiling hot!
I started to leave my pile of mess at the counter but I pressed on. I spoke with the manager who so nicely gave me a $10 refund off of my next transaction.
Whew....couponing ain't easy, I tell ya!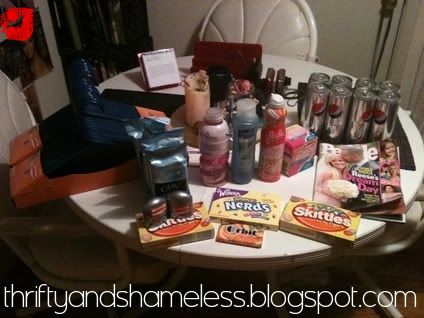 Savin' Maven Monday (Target)
Target was a cinch. I got all of the above for $12.35. I purchased 4 packages of Olay cleansing wipes at $4.99 each (
I used 4 $2.00 off coupons
) and recieved 2 $5 gift card which were used on a seperate transaction to purchase the remainder of the goodies. BTW, I used a coupon on
every single one
of the items I purchased (
both at Rite Aid and at Target
) and I still have $2.38 left on one of the Target gift cards.
Even though my trip started off a little rocky it paid off in the end!
So there you have it.
I got all this for a grand total of
$158.47
my out of pocket expenses were $49.05
for a total savings of
$109.42
What did you save on this week?
Leave me a link so I can see!!