Pretty rough weekend but I'm right back here for another Savin' Maven Monday segment. I learned a few things about couponing and saving money this weekend.
I can live without Wal-Mart!
I can recall a time where I went to Wal-Mart at least 3 times a week. Now, not so much. Of course I will visit for things like office supplies, snacks, and a drink here and there but I save so much more money on cleaning supplies, personal hygiene products, and makeup at Rite Aid, Target, and Walgreens. I haven't jumped on the CVS wagon yet but there's a new one close to my house so I'm dying to get there. Also, with chains like Farm Fresh, Kroger, and Harris Teeter doubling and even tripling coupons, who needs Wal-Mart!? I went there yesterday and couldn't find a good deal to save my life.
This week I did most of my shopping at Walgreens and Rite Aid and I also picked up a couple of items from Target (just because I was looking for a housewarming gift). Here's my haul: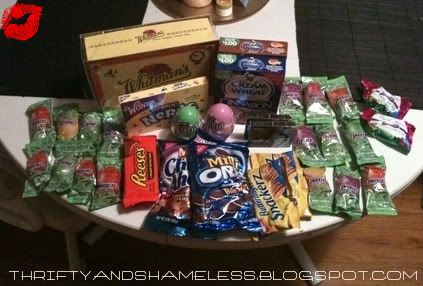 Savin' Maven Monday #4
Walgreens was offering a 29 cent special on Easter candies so I stocked up! (I'm gonna make something cutesy for my co-workers because there's NO way I'm eating all of that chocolate) As it gets closer to Easter, be on the lookout for more specials on candies.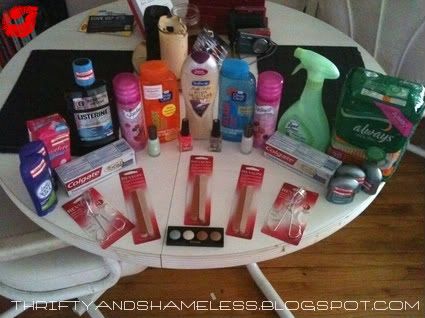 Savin' Maven Monday #4
The deodorants and mouthwashes were clearance items that I found in Target. The Rimmel fingernail polishes were 50% off in Walgreens and the Revlon beauty tools were 40% off at Rite Aid. In this shopping trip I purchased the Colgate toothpaste (2/$6) first and a received a $4 instant reward. I also received a $2 instant reward from purchasing 2 Skintimate Shaving gels. So that's $6 in free money before I even used my coupons. (BTW all of the coupons that I used were in the Sunday inserts)
Savin' Maven Monday #4
I really came up at Rite Aid as well. I has a $3 off $15 purchase voucher plus a $5 instant reward from a previous purchase. So I applied that $8 to my transactions and walked out of there with 5 more free dollars to use on my next purchase.
My grand total was
$157.27
My total OOP (out of pocket) was $33.70
For a total savings of $
123.57
I LOVE saving money!!! And above all else, my stockpile is greatly expanding. So when the gas prices get outrageous and I can't afford to run out to the store to purchase sanitary napkins on a whim, I can just dip into my stock. Gotta love it!
What kind of things did you save big on this week?
I would love for you to share!