I hope everyone's weekend was better than great!
Mine was super
frugalicious!
To start things off...I visited my mailbox. You may ask what's the big deal. Well I only check my mail once a week-usually on Thursday's-and it looked like this this week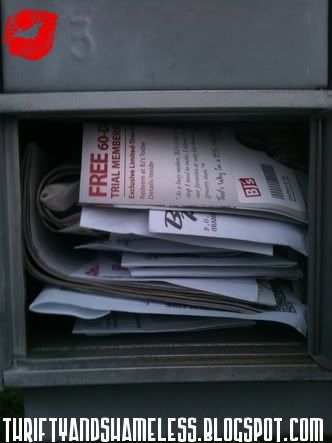 But it was filled with all sorts of goodies
like these:
Mailbox Monday #2
-2 samples of Miracle Whip
-1 sample of Maggi Chicken Flavored Pasta Soup Mix (yum-can't wait to try it)
-1 John Frieda Haircare sample
-1 sample of Maybelinne 'Fit Me' Foundation
-1 sample of Nexxus Pro Mend Haircare Product
-1 Declaration of Independence/Constitution (pocket version)
-Jet Magazine (March 21/28 2011 issue)
-Family Circle Magazine (April 2011 issue)
-1 GotPrint.com paper sample
Did you get any free stuff in your mailbox today?
Before I deuce out for the day, I have to share my Savin' Maven Monday goods with you. I shopped at Target and Rite Aide this week using Target web coupons and coupons from newspaper inserts. Here's what my first trip looked like:
Savin' Maven Monday #3
-
2 Lysol Disinfecting Wipes
-1 Glade Carpet Freshener (even though I don't have a bit of carpet)
-5 panty liners (Stayfree and Carefree-both on clearance at Target)
-2 boxes of Renu contact solution
-1 Airwick I-motion air freshener
-1 pack of Summer's Eve Cleansing wipes
-3 boxes of Nature Valley Granola Bars
-1 bag of Halls cough drops
-1 pack of Welch's fruit snacks
-3 tubes of Wet n Wild lip balm
all for a grand total of $73.06
my total out of pocket expenses were $11.76
for a grand total savings of $61.84
Oh yes, I added a new location onto my shopper's list....
Wait for it....
Harris Teeter
yep, senora thriftarita went there!!
(you know there has to be a catch, because y'all know damn well Harris Teeter's prices are through the roof)
I believe that I have shopped there once before about 6 years ago and vowed to never go back because of their outrageous prices. Come to find out they were having a mega double saving event where they were doubling coupons up to $1.98 in value so if I had a coupon that took $1.50 off of a single item it would double up to $3.00. I figured that this would be one heck of a deal so I gathered all of my 'pons and went

HAM

in there. I had to take 2 seperate pics but here's my stuff: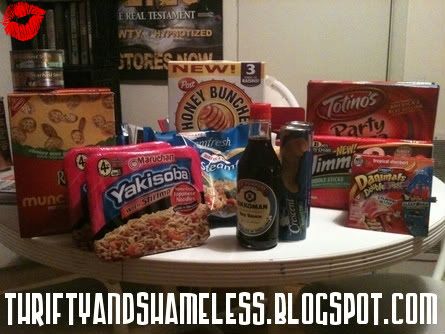 Savin' Maven Monday #3

Savin' Maven Monday #3

-2 boxes of Ritz Munchies
-2 boxes of Yakisoba Noodles
-3 bags of Steamfresh Veggies
-1 bottle of Kikoman Soy Sauce
-2 cans of Pillsbury Cresent rolls
-2 boxes of Honey Bunches of Oats cereal
-3 boxes of Totinos pizza
-1 box of Jimmy Dean breakfast sausage dogs
-1 4pack of Danimals yougurt
-2 Glade oil air freshener plug ins
-6 Renuzit air fresheners
-2 cans of Lysol Neutra air
-2 Lysol toilet bowl cleaners
-1 Renuzit odor air freshener
for a grand total of $106.58
my total out of pocket expenses were $31.11
for a grand total savings of $75.47
Whew...I tell ya if you don't have a butt load of patience, you will never succeed at couponing because I spent alot of time in these stores. I also forgot to mention that I got $85 worth of restaurant gift certificates for
7 DOLLARS
through a deal that Restaurant.com was offering (sorry, the deal ended on Sunday before I posted this). I also scored 5 Blockbuster Express movie rentals for $2 through Groupon.com.
You can go here to and enter your city to see if they are still offering this deal.
So all in all this week, I spent a total of $51.87 for $269.64 worth of merchandise. I'm fancy, huh!?
What do y'all think?
I loves feedback.
Feel free to leave any questions, comments, or concerns for me.