When I originally began my blog, my goal was to highlight fashion with specific regard to being thrifty while remaining fashionable stylish.
Within my 3 months of blogging, I have realized that being thrifty does not only pertain to fashion-it entails everyday items as beauty products, grocery, as well as dinner dates!!!
With the economy being at an all time low, I have amended my goal a little, tweeny bit just so I could share with you not only my fashion 'cents' but also how I manage to live frugally in all other aspects of life.
....because everyone wants to save a 'lil bit more money these days!
I know I haven't done this in a while, but here's my super frugal outfit of the day. This ensemble is also doubling as my Color Brigade fit of the week. You can break out your colors too and join Kileen at
Cute and Little
to participate in the 'color festival'!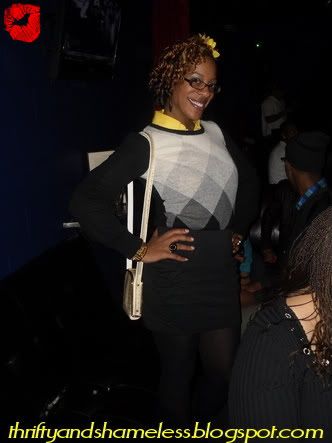 Purse-Vintage Christian Dior/Argyle-Target Clearance/Skirt-Miley to the Maxx/Button Up-NY & Co
Oh, how I wish you could see my whole outfit! The lighting is
horrible
. I was actually in the club. I'm using these horribly lit pics because I'm patiently awaiting the arrival of my new camera.
Anywho..my
purse
is vintage Christian Dior that I found at the thrift store for around $5. It was marked down....wayyyy down obviously but yes it is authentic! The
argyle
is from the Target clearance rack for a whopping $3.98! I loves me some Tar-jae
(in my sexy London accent)!
The
skirt
(you can't see it but yes I'm wearing a skin tight mini skirt)
is from a $1 Walmart clearance. And the
yellow button up
was the most expensive coming in at $7.99 from NY & Co. The
sexy black stilettos
(which are unseen as well)
were another $5 thrifty find. That brings my outfit total to $21.97-the price of 2 glasses of
Moscato
plus a tip!
What kind of thrifty items have you found that when put together made a cute club 'fit?