As you know....
True indeed that most things in life aren't free but great savings are! They come in the form of coupons, promotions, codes, and maybe even being subscribed to some type of rewards programs at your favorite stores. This requires a somewhat tedious amount of time but hey if it saves me a few bucks I'm all for it. My BF used to look at me like I was crazy when we went out for dinner and with bill in hand I said, "Oh wait babe, use this coupon".
I bet he thought I was cheap!
Nope, just super frugally thrifty!!
Needless to say, once he found out how much money I saved us, he no longer gives me those 'looks'.
In an effort to save more money this year, I have taken on a hobby that I thought was only reserved for the elderly-clipping coupons. It's not an easy task by far-there is a certain amount of patience and skill you have to possess to be successful with this. In other words, it's an art. But it amazing how much you can save! Manufacturers practically give their products away because they are constantly trying to get rid of old stuff to make room for new products that need to be tested.
When I initially began my blog, I was only going to highlight my thrifty fashions, however, as I thought about it I figured that there was soooo much more to talk about. The whole theme of my blog title is 'being thrifty and frugal' and that entails much more than fashion. So, since I have yet to come up with a theme for Mondays, I'm gonna embark on this:
where I will share with you my purchases over the week and let you know how much I have saved. This is going to be combined with Mailbox Monday where I share all of the cool things that came in my mailbox over the week-most of which were free.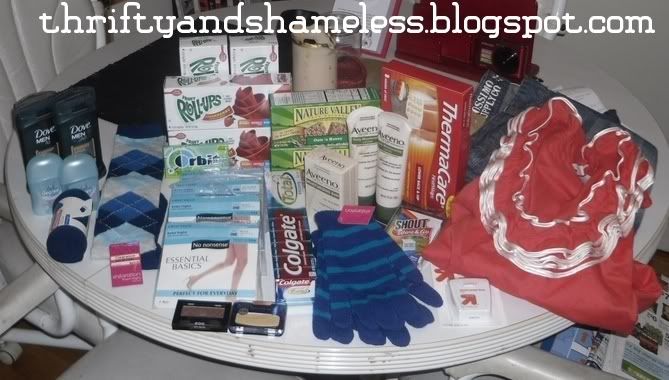 Savin' Maven Monday #1
This week I got:
-2 Dove Men's Deoderants
-2 Degree Women's Deoderants
-1 pair of tights
-1 pair of argyle knee high trouser socks
-4 pair of knee highs
-4 boxes of Fruit Roll Ups
-2 boxes of granola bars
-1 tube of Colgate Total toothpaste
-2 tubes of Aveeno lotion
-1 bar of Aveeno soap
-2 pair of gloves
-1 pack of Shout wipes
-1 pack of dental floss
-1 pack of Orbit gum
-2 eyeshadows (Covergirl/Rimmel)
-1 box of Thermacare
-2 pairs of Mossimo jeans
-1 Merona dress shirt
for a grand total of  $51.44
my out of pocket costs were $12.94
for a total savings of $38.50
If that ain't frugal, I don't know what is!!!
I want to hear from you...
Feel free to share your thoughts, comments, questions, and even your savings!!
Stay tuned for the first installment of the
Color Rotation Challenge
.
It's a challenge created by
Colleen
over at
Scrap and Run
to get us out of the habit of wearing the same colors all the time. The colors
pink
,
red
,
orange
,
yellow
,
green
,
blue
,
purple
, and any pattern will be rotated 1-3 times. You may read more about it and sign up
here
.