Whew...yesterday was one helluva day...I worked 14 hours straight so unfortunately I'm tired and cranky today. Nevertheless, I hope everyone enjoyed their Valentine's Day with someone special. For those who don't celebrate VDay, I hope that you enjoyed anyway. I have a bunch of random thoughts today. First and foremost is the fact that I'm ready to finish this 30 for 30 challenge already! Not that I don't love it, because I do-it makes getting ready for work so much easier in the morning. Even still, I have a number of reasons for wanting to finish early:
1. I'm more than halfway done and beginning to get antsy!
2.. I began taking outfit pics the minute Kendi decided to do a challenge for the winter so I already have them on hand to load up in my posts, otherwise they are just purposelessly sitting in a file on my computer.
3. I have to prepare for midterms so I won't have as much time to dedicate to detailed posts.
4. There's no set deadline...so I can do what I want!
5. LAST BUT NOT LEAST-I desperately want to wear some of my other clothes before winter is over!!!
So here goes nothing...
This is also my Color Brigade outfit of the week! Go
here
to participate.
When I want to be comfortable, I go for looks like this: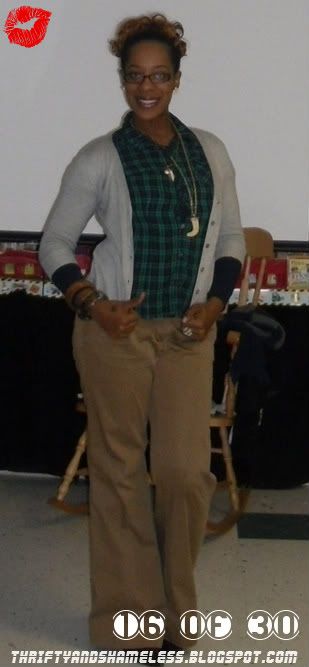 These are my 'Friday' pants

Join me tomorrow as I tell you my 'Word on the Street' and take on the '52 Books in 52 Weeks' challenge with...well there's a shit ton of people doing it so I can't really be sure of who the originator was. Even though we are already about 7 weeks into the new year, I'm still gonna do it because I've been slacking off lately and this will serve as my inspiration. Yes, I'm a nerd...I encourage you to join me. Thanks for reading dears!