***This post is sponsored by Target but all opinions and views are my own***
Content and/or other value provided by our partner, Target.


Hello and Happy Tuesday my loves!!

I hope all of you are off to a great start. I'm sitting at my desk with my feet propped up because as I approach my 9th month of pregnancy they're beginning to look like an opened can of Pillsbury biscuits. LOL

I'm also thinking of macaroni and cheese, daydreaming about candied yams, and craving for some of my Aunties homemade banana pudding in anticipation of the upcoming Thanksgiving holiday.
I just can't wait!!!
Every year is especially memorable but this year will be particularly different because all of my family will be oogling over my pregnant belly, how much food I have on my plate, and how many trips I make to the serving table-making sure to keep a running tally of the exact numbers so they can tease me about it later.
Thanksgiving is such a special holiday for my family. It's a yearly tradition of ours to begin planning our menu in October. Food + Family (definitely) = #MyKindOfHoliday!
I have a total of 4 aunts and uncles so each year they rotate hosting duties.
The women usually set the tables up really nicely-complete with pretty serving trays, napkins, and glasses-and the men....NOT SO MUCH!!!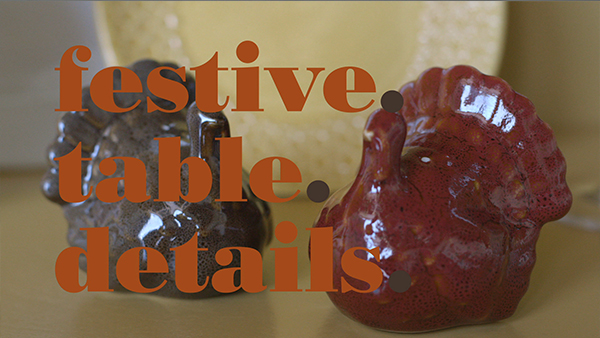 They're usually more focused on the featured football game of the evening.
At some point during the evening, after eating of course, the men and women go their separate ways. The women hover over the Black Friday sales ads and contemplate their plan of attack while the men continue to hoop and holler over touchdowns and await their Black Friday shopping assignments.
This portion of the holiday is usually accompanied by some type of wine, spirit, and/or other spiked beverage. I'm madly jealous that I can't participate in this particular tradition and that I'm going to have to settle for nonalcoholic daiquiris and Shirley Temples this year!!!
Oh well, at least they're gorgeous to look at!
Besides, I would hate to drink too much and miss out on the slamming

'Doorbuster' deal

that Target has on their 50" flat screen TVs this year. I've been dreaming of this deal all season.
I would love to hear about some of the traditions that you and your family follow for Thanksgiving or any new ideas that you plan to incorporate this season.
I can't wait to hear from you.
Thanks for reading!
XOXOXOXO