It's Top 2 Tuesday.
It just so happens that today's topic is about money. I think that ties in perfectly considering that my blog was created in order to highlight my life of frugality. In terms of money, I've learned that:
1.
You should never buy full price items.
More often than not, if it doesn't have a sale sticker, red line, coupon, discount, or promotion of some type, it's better that I leave it right where it is. Some people, on the other hand, just
have
to have the newest item-
as soon as
it hits the racks. And to those I say, do whatever floats your boat honey. I personally prefer to wait until things get marked down or I at least try to plan my shopping around the coupons or promotional codes that I receive. I mean
seriously
, why buy that brand new blazer out of NY & Co for $60 bucks when you can wait a month or so-until they mark it down to $7.99. Sure it may be out of season and the sizes may be picked through but your pockets will be a lot heavier if you wait. Or you can even hit the thrift store. I give props to those gals who are frivolous with their money, the name brand shopper! I guess it ain't tricking if you got it though. But guess what, our closet looks the same and I spent less on my
whole
closet than you did on one item. I like to shop for less. I'm not cheap, I'm thrifty and shameless!!
2.
Create a budget for yourself.
You can do this monthly, weekly, or
even
daily. Last year I would often wonder how I
always
ended up scraping the barrel at the end of every two weeks. That's because I didn't set any limits for myself. Because I shop frequently, I prefer a weekly budget. In my budget I include my monthly bills versus my income and I also include other expenses like gas, food, and even shopping.
Yes
, I give myself a shopping budget. You can find budget worksheets and templates
here
and
here
.
Unfortunately, I cannot post my Color Brigade fit of the week at this time because I'm posting from work and all of my pics are stored on my home computer BUUUTTT as sooon as I step foot in my house I will update the post.
You can participate with Kileen over at
Cute and Little
.
Cardigan-was in the garage sale pile/Belt-Thrifted/Gingham Shortie-AE/Jeans-AE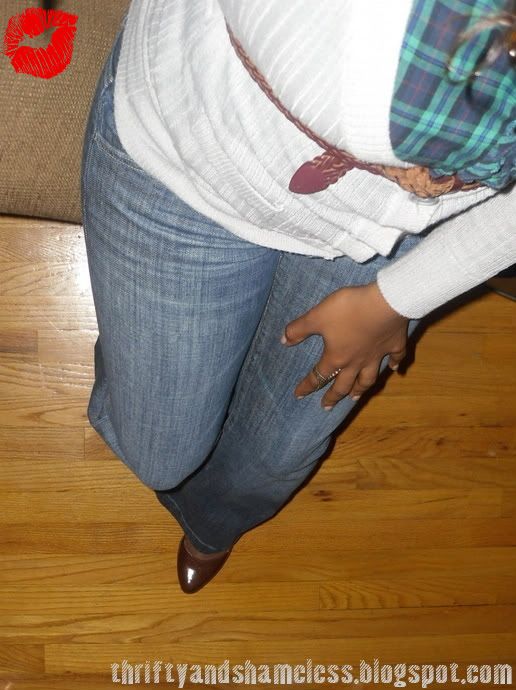 Brown Pumps-Thrifted
Thanks for reading.