I'm going in...straight to the point. Because it's Thursday!
-I hate it when people scuff their shoes on the floor as they walk. Pick up your damn feet...doesn't that sound irritate you? What are some of your pet peeves?
-The infamous chain text messages. The ones I hate in particular are those that tell you 'if you don't forward this, your life will be doomed' or 'if you forward this, the love of your life will realize that he is in love with you'! Really? First, I will not let a measly text determine the fate of my life and second my beau has already come to the realization that he's in love with me. Therefore....they are sooooo pointless.
-The fact that Charlie Sheen has apparently gone off the deep end. I mean I absolutely love him in 'Two and A Half Men'. I guess celebrities have problems too-and most times they are worse than those of us 'normal' people.
-When people say 'pacific' instead of 'specific'. What!
-Guys!! What's the point of going to the women's section to buy skinny jeans only to have them hanging off of your a**? Walking contradiction!
-$7.99 sale at NY & Co. I will share my scores with you on a later post.
-American Idol. It's so good this year. I watched the
Top 12 Girls
last night. These chicks have soul! I'm having a hard time choosing which one is better. Would love to hear what you guys think. I will be tuned in tonight!! My prediction for tonight's Top 5 is as follows:
Haley Reinhart
Kendra Chantelle
Lauren Alaina
Thia Megia

AND


Karen Rodriguez
-TGI Friday's tonight with my girls. One has a birthday today, and one had a birthday yesterday! Can't wait! And you knooooowww I'm gonna be fully equipped with a
coupon clipped
.
-The 30 for 30 challenge is over so I can finally show the rest of my closet some love. How about it!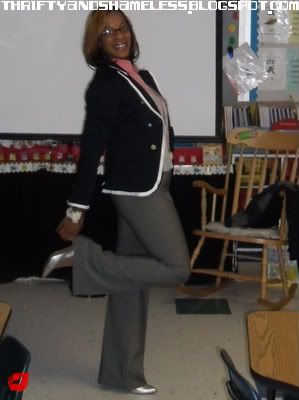 Blazer-XXI/Shirt-Slacks-Cardi-NY & Co/Belt-Shoes-Thrifted
-
The treasured pieces in the above fit are....awesome. Let's see-the BLAZER was a XXI find from
Plato's Closet
. I had been searching for a 'nautical' navy blazer all over and BAM! Found it for $7.99! The BELT is yet another thrifty find-going for all of 78 cents! I can't wait until spring finally hits so I can get my money's worth out of it! Lastly, the SILVER SHOES. They remind me of the shoes that Dorothy wore in the
Wizard of Oz
. They too, were one of my thrifty finds over at CHKD. Loves em. They're gonna be one of my staple pieces for the spring as well.