Word on the Street is that it's humpday! Halfway into the workweek...2.5 more days to go. 2 days into the 30 for 30 and this is what I'm rockin'!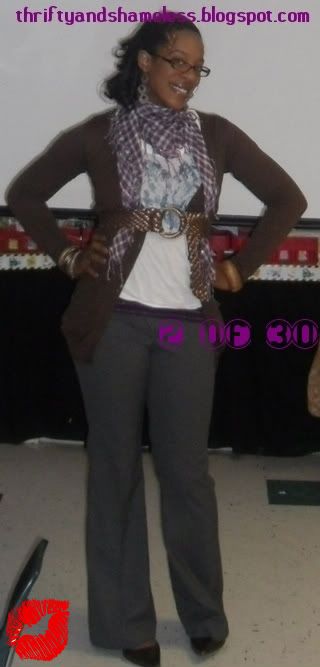 I especially like the brown vintage purse shown here (lol, it definitely came from Target)...
Accessories can add soooo much life to an otherwise drab outfit so today I decided to remix these pieces by adding an American Eagle scarf and cinching a belt at the waist. I love playing around with accessories to see how many different combinations I can come up with!
In this week's edition of

'Word on the Street Wednesday'

I want to highlight another movie. Yes, yet another REDBOX night with the BF. We had the chance to watch Buried. It's centered around a private contractor named Paul, who has been assigned to do some work in Iraq. Well he ends up getting kidnapped and awakens to find himself buried inside a coffin. His survival items-a lighter and a cell phone. Although interesting in the beginning, the monotony began to bore me. Nevertheless, it was a pretty decent flick.
Since Linky Tools will no longer be free as of February 7, I will forego the linky list and just make this a regular feature. If you would like to join in on the fun by leaving a comment about your favorite movie, book, or event of the week, they are always welcome. Until next time...toodles!