The weekend has literally come and gone! With so much other stuff going on, I've barely had time to think straight. And I'm not even being sarcastic about that-at all!! So now that I have stolen some time (a damn shame I have to steal time from myself) away from work, school, and all other activities that cause me to exert extrenuous amounts of energy, I can finally assess my 30 for 30 outfits and give my final thoughts and conclusions. Okay, over the last 30 days you've watched as I modestly and sometimes carelessly remixed and re-remixed 30 items of clothing. Here's what all of my outfits look like when jumbled together: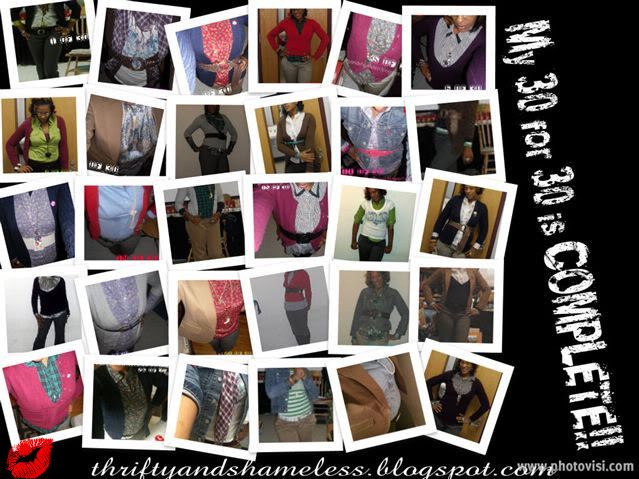 I have semi-decided that the items I wore the least would be the items that I would get rid of by way of donating them to charity or the homeless, or passing them down to someone else who needs them. In order for me to decide which items I can do away with, I need to assess how many times I wore each piece over a 30 day time period. Here goes:
Pants
1. Grey Khakis (NY & Co)-2xs
2.Beige Khakis (NY & Co)-5xs
3.Light Grey Slacks (NY & Co)-5xs
4.Black Slacks (NY & Co)-2xs
5.Tan Khakis (Old Navy)-3xs
6. Dark Grey Slacks (NY & Co)-9xs
****The Black Slacks lose-they shall be donated****
Shirts
7. Flower Button Up (Wet Seal)-3xs
8.Turquoise/Black Floral Button Up (NY & Co)-2xs
9. Purple Floral Button Up (The Gap)- 3xs
10. Blue Striped Button Up (NY & Co)-2xs
11. Green Striped L/S Shirt (Old Navy)-2xs
12. Silkly Paisley Blouse (Thrifted)-2xs
13. White Ruffle Button Up (NY & Co)-3xs
14. Black/White Gingham (Thrifted)-3xs
15. Lime Green Button Up (NY & Co)-3xs
16. Burgundy Printed Blouse (Thrifted)-2xs
Shorties (S/S shirts)
17. Navy Gingham (American Eagle)-2xs
18. White Tshirt (Miley 2 the Maxx)-3xs
Sweaters/Cardigans
19. Burgundy Cardi (American Eagle)-4xs
20. Navy Cardi (The Gap via Thrift)-4xs
21. Purple Sweater (XXI)-4xs
22. Brown Cardi (Sports Zone)-2xs
23. Red Cardi (Old Navy)-3xs
24. Grey Cardi (NY & Co)-4xs
Blazers/Jackets
25. Tan Blazer (NY & Co)-4xs
26. Black Blazer (Thrifted)-only ONCE
27. Jean Jacket-4xs
****needless to say, the black blazer is going bye, bye-I hate the way it fits!!****
The remaining 3 items are my shoes, all of which were worn an exuberant amount of times!!
Now I see exactly why my closet looks the way it does-it's because I'm afraid to get rid of things. Out of 30 items, I only managed to find 2 that I could part with, TWO!!!. Is that bad or does that just mean that I really like all of of my clothes? Out of all of these my most favored fits were:

and
And if I had to do this challenge over again, I would throw these in the can:
and
Maybe I should get rid of this here green shirt as well!
Overall, I've learned that:
1. I'm a pack rat!
2. Judging by the looks of my donation pile, I really need to curb my shopping habits because I did a pretty swell job remixing only 30 pieces over a period of one month.
3. Green is not my color!
Lemme know your thoughts about the challenge...