In the midst of life and the hustle and bustle of daily activities, we sometimes neglect or maybe even forget to take time out to do the things that we love-the things that make us happy. We forget to do us, and instead focus on making those around us comfortable. Not that there's anything wrong with pleasing those around you, but you must first take time out to make yourself happy because realistically it is us who matters the most. Not selfishly so, but after you give thanks to your higher being of choice (mine happens to be God), you must put yourself first.
Well, sometimes it's okay to be selfish. Sometimes you have to be selfish. Most times this is the way to be just to ensure that people don't run the hell over you. And take advantage of your kindness. After all, in the end, you're the only one that has to deal with you. So if you finagle around and engage in things that you hate, because someone else wants you to do so, then who's gonna lose in the end? You got it! YOU!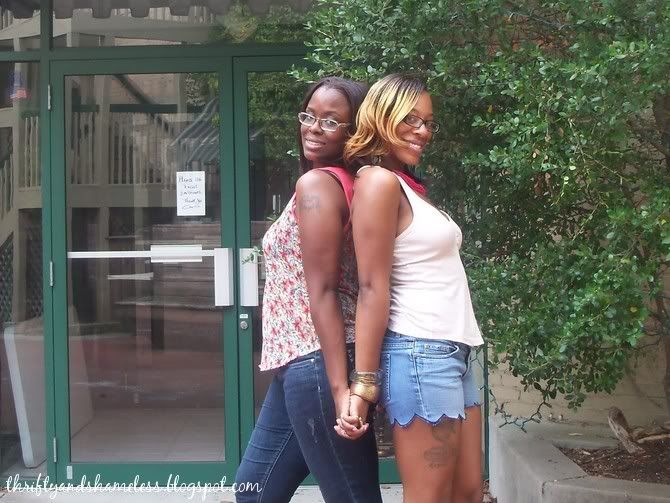 Spending time with my bestie makes me HAPPY!
'Word On the Street' is that happiness is being discussed by some of my favorite chics this week. Sarah over at
GetUpandGo
talks about ditching rules to maintain happiness in her house. I love that because life
isn't
all about rules
all the time
.
Margaritas, Mexican food, and wearing the same shoes as bestie makes me HAPPY!
I hate a square! Always uptight and by the book. Bend the rules a bit and live a little more freely. I promise it will take loads off! Don't sweat the small stuff by arguing over pointless matters. This is especially true in relationships. We often set our expectations wayyy too high (yes there is a such thing). I mean, don't get me wrong there's nothing wrong with knowing what you want but don't be unrealistic. . We expect our partners, friends, whomever, to do certain things and then when they don't pull through, we're upset and ready to argue. Understand that the flesh is weak and people are bound to screw up.
Beautiful surroundings make me HAPPY!
So if you create happiness for yourself all of this can be avoided. Don't expect people to do for you what you can do for yourself. Does this mean that you have to exhibit a higher level of independence-YES, YES, YES!
My girl Keren over at
TwoStylishKays
compares life to a 'smooth sailing' boat. Yes girl, we are the captains of our own ship. So when we speak about happiness, we must
first
look to ourselves. We can't point the finger at anyone else and blame them for our anger, fear, hurt, pain, guilt, or unhappiness. No one has control over our feelings but
us
. We are the
only
one's responsible. And until we are happy with ourselves, we will
never
be happy with anyone else.
Vest&Tank-Old Navy/Wedges-Target/Scalloped Shorts-DIY & Thrifted
So today, if you are feeling unhappy about the way someone treated you go to them with an open mind and discuss the issue. Instead of saying "You made me feel...." say, "I feel this way because..." In doing this you are shifting responsibility back to yourself. If you are feeling unhappy about the path your life has taken thus far, go out and do something spontaneous, something fun, something unexpected. Abandon every single rule in the book, if only for just this one time.
DIY Scalloped Shorts make me HAPPY! (inspired by

HollyDolly

)
What types of things make you completely happy?